ABS Plastic Non-electric Bidet Attachment, Soft Spray

Key Specifications / Features:
Non-electric Bidet Attachment for Toilets Maker: ABS Plastic Bidet Attachment for Toilets with Soft Spray, Single Nozzle, Cold and Hot Water Connection.
Detail Infomation
Soft Spray Bidet Attachment for Toilets
·Wash ass after defecating will be more comfortable and save the toilet paper.
·Female will avoid the residue in panties and prevent the inflammation of gynecology from bacteria into the vagina & urethra.
·Wash the vulva during menses will be more hygienic & comfortable to avoid peculiar smells and prevent various inflammation of gynecology.
Product Details:
-Non-electric bidet attachment
-Zinc alloy chromed handle
-Easy to install & detach
-Single nozzle
-Cold and hot water connection, water temperature control
-Water pressure control
-Reduce toilet paper consumption
-Quick release and installation
-Brass valve

Material:
Bidet: ABS Plastic

Accessories:
Brass or Plastic T-adapter
PU Hose with Nut or Braided Hose
Manual Book
Fixing Plate
Product Description:
Item Name: Cold and hot water bidet attachment
Model Number: B0013BZ
Installation Type: Floor-mounted
Material: ABS
Nozzle: Single nozzle

Special Design of Non-electric Bidet:
A quick button

QUICK RELEASE & QUICK INSTALLING
To solve the trouble of dismounting and installation, we design a Quick Release and Quick Installing. You just press the button on the right, then you can take it off easily from the toilet, and also install it in the same easy way.
Easy and stable labor-saving.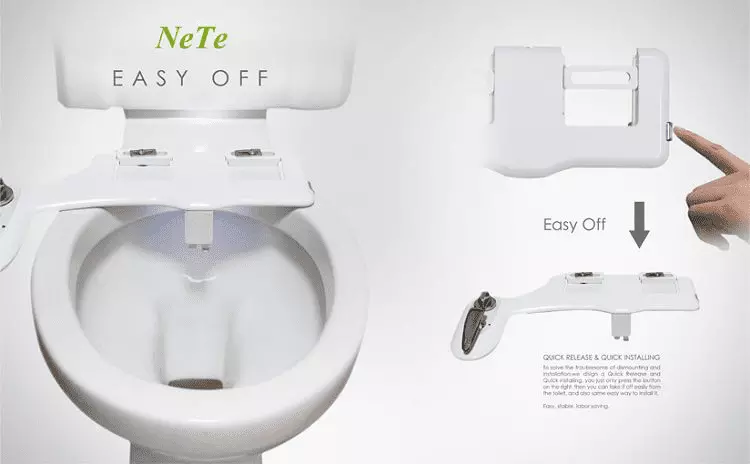 Company Profile:
Advantages
Reasons why customers trust us
● WORK EXPERIENCE
We have more than 8-year production experience.
● QUALITY
We strictly control the quality of our products and strive to achieve the best.
● BEST PRICE
We will give the best price according to market price and order quantity.
● QUICK SERVICE
Online customer service will answer your questions.

Package and Shipping:

Tags: