Hot and Cold Water Intelligent Bidet with Metal Brass Valve

Key Specifications / Features:
Hot & Cold Water Intelligent Bidet Maker: ABS Bidet with Metal Brass Valve, Bubble Spray, Non-electric, Double Nozzles with Guard, Adjustable Water Pressure.
Detail Infomation
Hot & Cold Water Intelligent Bidet
·Metal brass valve bidet with cold & hot water
·Long ABS handle
·Creative and attractive design
·Fresh washing fit for women, old people, and disabled people
·Dual nozzles with self-cleaning function
·Water pressure adjustable by moving the handle
·Save paper and water
·Easy installation and convenient using

Material: Taiwan Chimei ABS 757

Accessories:
1. One Three-way Plastic T-adaptor
2. One 0.8m PU Tube with Plastic Nut for Supplying Cold Water and One 3m PU Hose for Hot Water
3. One Instruction Manual
4. One White Box or Color Box (Size: 48.0*9.5*21.0 CM)

Product Description:
Item Name: Hot & Cold Water Intelligent Bidet
Model Number: B0044PW
Installation Type: Floor Mounted Bidet Dual
Materials: ABS
Nozzle: Double Nozzles with Nozzle Guard and Bubble Nozzle Spray

Special Design of Non-electric Bidet:
-Bubble spray is eco-friendly, gentle, and comfortable.
-Air-in technology, smart and special, water-saving
-Smart design structure in the nozzle which inhausts the air when spraying. And the air will mix with the water and make a bubble spray.
-Spray water, full of air, fills with so many bubbles. The spray will be soft, gentle, and comfortable instead of providing a stronger feeling. It is available for women, children, and hemorrhoid-suffered people.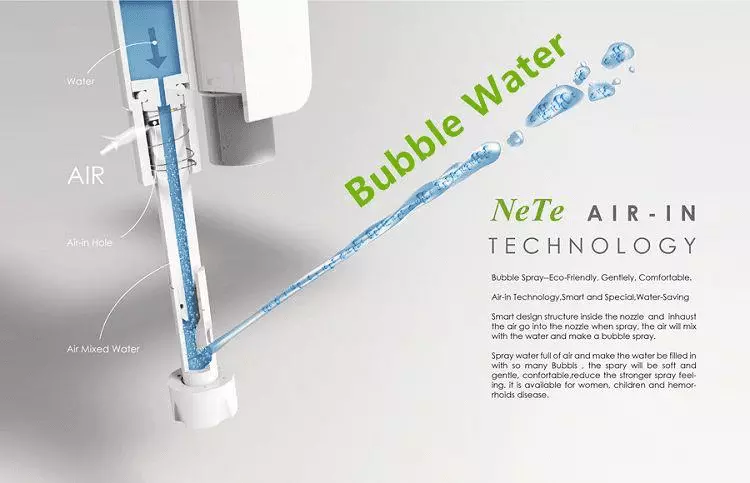 Company Profile:
Our company, located in the coastal city-Xiamen, enjoys a developed economy and convenient transportation. We are a comprehensive sanitary ware manufacturing company of bidet, integrating development, design, production, etc. Since its inception, we have kept forging. We, who are always enterprising, continuously introduce advanced technologies and equipment and foster practical talents with specific skills.
Nete Bidet has been well recognized by global customers due to its high quality, reasonable price, and complete service. More and more products are being sold all over the world. We sincerely welcome all the clients from home and abroad to visit us and cooperate with us to create resplendence together.
FAQ:
1. What is the materials of your products?
They must have new anti-bacterial ABS plastic resin. And recycled materials are forbidden because they are harmful to the human body.

2. How can people place an order?
Pls visit our website and tell us which item you want, then we can make an online order with you. And you can pay us by TT or credit card online.

3. How long does your factory run?
For 5 years.

4. How to use your products?
We have specifications in the package and you can browse pages about our related products, too. We also put an Introduction manual in each box, then you can read and know how to use the bidet.
Tags:
ABS 757 Bidet
,
Floor-mounted Bidet
,
Double Nozzles Bidet
,
Bubble Spray Bidet
,
Non-electric Bidet
,
Adjustable Water Pressure Bidet
,
ABS Handle Bidet
,
Metal Brass Valve Bidet
,
ABS Bidet
,
Braided Hose Bidet
,
Handheld Bidet Set
,
Stainless Steel Panel Bidet
,
T-adapter Bidet
,
Greenco Water Pressure Bidet
,