American Elongated Standard Bidet Seat, Press-button bidet

Key Specifications / Features:
American Standard Bidet Seat for elongated toilets, Bidet Seat with Modern and slim Appearance, Press-button bidet, Dual Nozzles, Adjustable Water Pressure
Detail Infomation
---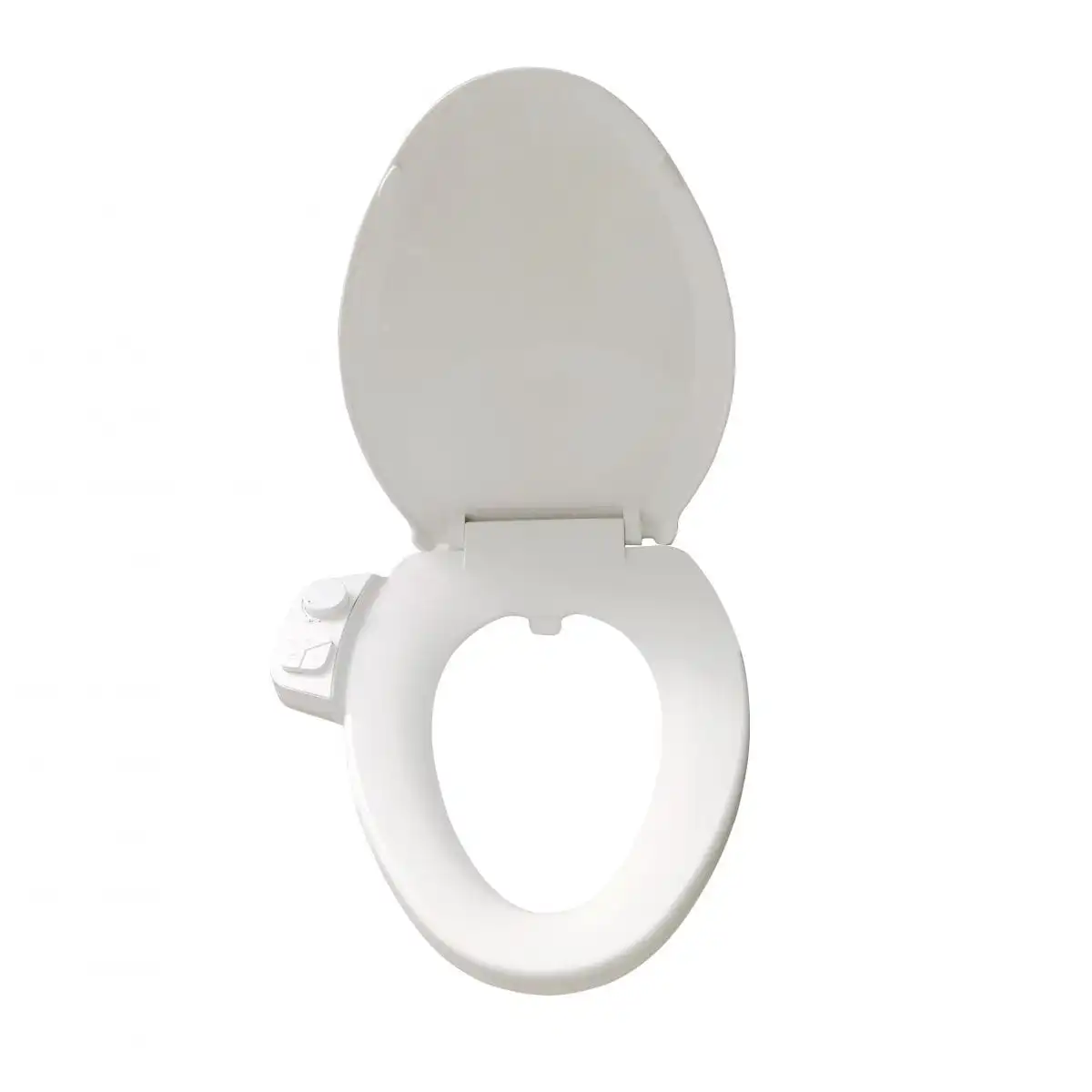 American Standard Bidet Seat
Non-electric bidet feature with adjustable spray patterns and detachable nozzles

Seamless lid design to decorate your bathroom

Ergonomic seat ring for comfortable experience

Press button push lift-off feature for easier cleaning

Durable polypropylene plastic toilet seat cover

Includes mounting hardware, water supply and adapter

Slow close hinges to prevent slamming of the seat

Top mount installation for easier install.

Fits most conventional toilets
Product Details
Simple & Elegant Design
Comfortable and user-friendly design with long-lasting, cost-effective health benefits

Reliable and high-quality construction with simplicity and elegance in mind.




Cleaning Nozzles
Easy to operate with press button control for kids, elderly and pregnant ladies.

Dual functions including soft front spray & wide rear cleaning

Three cleaning opinions for Feminine & Rear & Nozzle self cleaning.

Flexibly adjustable water pressure from soft to strong.



Dual Cleaning Functions
Separated front & rear cleaning nozzles with press button.

The water volume adjusts easily with a simple turn on the knob

Feeling refreshed with the most hygienic and soothing experience you have ever had.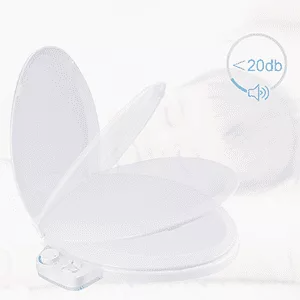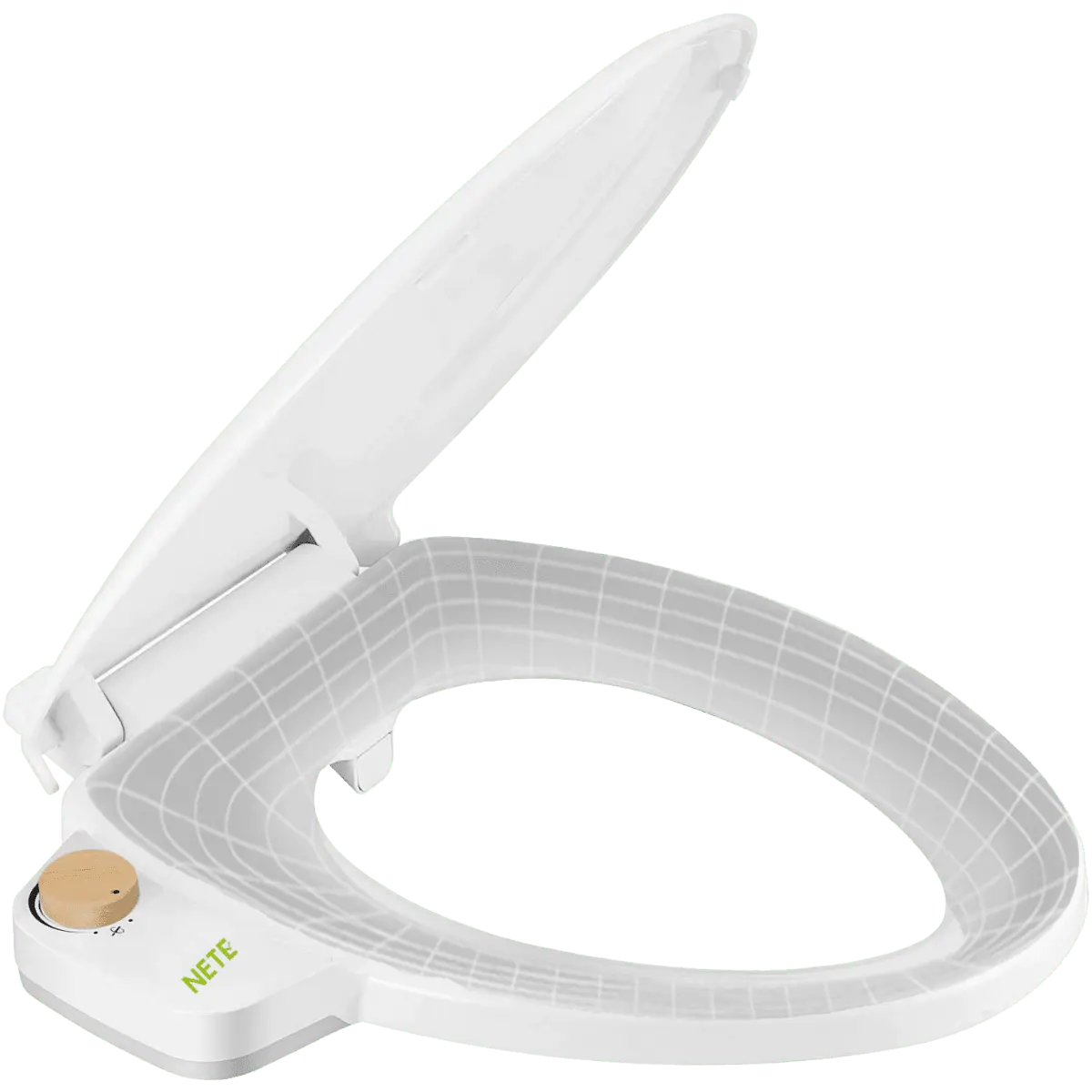 Ergonomic seat ring & Sof close
The seat ring is no slope that offers comfortable experience after your work for a long time.

​Slowly- close technology-lid and seat ring close slowly and quietly.





Packaging components

1 * Braided Metal Hose
1* Brass T-adapter
2 * Fixing bolts
1 * Rubber Washer
1 * Installation Instructions



Installation Instructions
Installation for toilet seat cover
1) Insert the bolts with hinges into the toilet mounting holes.
2) Adjust the seat cover according to the position of the toilet bowl to correspond.
3) Screw the nut with a washer under the toilet bowl, then tighten.
4) Close the hinge covers.

Connecting water hose
Step 1:
Shut off the water supply valve on the wall. Then drain all the water in the toilet tank.
Step 2:
Inspect accessories, make sure T-Adapter has the black rubber washer (The black rubber washer must be placed on the T-Adapter adapter).

Step 3:
1. Connect the T-Adapter to the toilet tank water inlet. Hand tighten.
2.Connect the other end of the metal braided metal hose to the T-Adapter. Hand tighten.
3.Connect the existing water supply flexible hose to the other end of the T-Adapter. Hand tighten.
Step 4:
Connect one end of the flexible braided metal hose to the water inlet of the bidet. Hand tighten.
Open the water supply valve.
Check connections for water leaks.
Tighten connections where there is a leak until leak stops.
---
Why use a bidet toilet seat
1) Clean your life
Rinse the anus three times or more every day, anal external sphincter is massaging because of the stimulation of the water column and water moistens, improve venous blood circulation is beneficial to health. And can wash the toilet paper can not wipe the dirt between the fold.

2) Prevent bacterial infection, hemorrhoids and constipation

3) Take care of pregnant women
It is important to clean the anus and perineum during or after pregnancy, so many hospitals have started using bidet irrigators to help pregnant women clean and improve blood circulation. Using an irrigator will not only freshen you up but also help you recover after giving birth.

4) Protect the obese and the elderly
The body resistance of old people is weaker, and the bidet seat implement has a key to run a bidet function. The practical function but the body inconvenience person does not worry about to go to the lavatory difficult problem, maintains the good clean body is advantageous to the body healthy.

5) Prevent constipation in children
Children to the cold toilet seat and toilet paper wipe when the faint pain has a sense of fear, so often appear in time to go to the toilet, can endure is endure, as time passes the formation of children habitual constipation. And bidet seat implement can solve such problem thoroughly, make a child is glad to go into lavatory in time.

We are an innovative and forward-thinking factory that has specialized in the fields of Bidet, Bidet Toilet seat and Bathroom Accessories, based in Xiamen, China. Warmly welcome to NETE, here, our R&D team provides you Professional OEM & ODM service with over ten years of experience.
CUSTOMIZING IS AVAILABLE!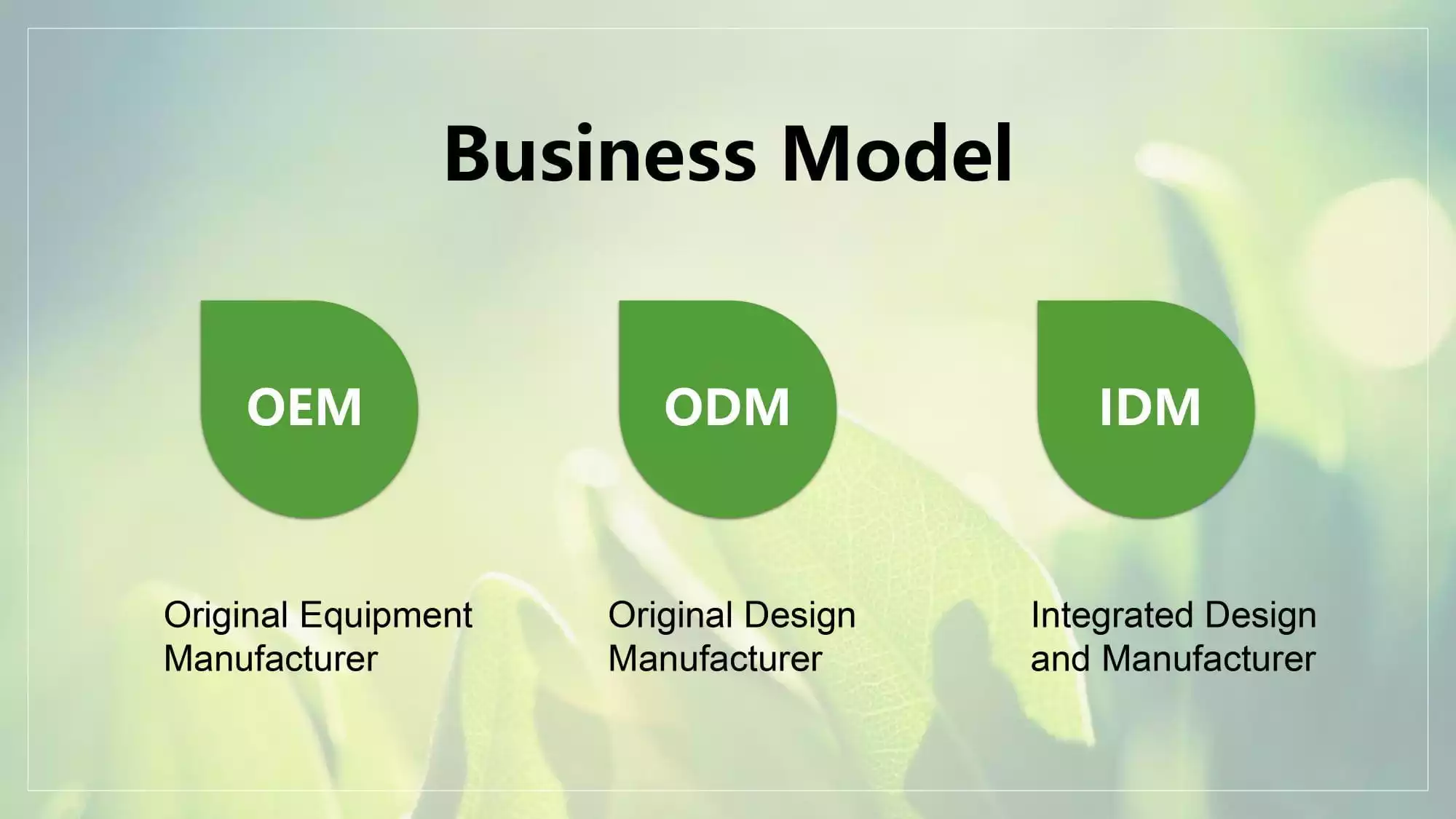 Tags:
Dual Nozzle Bidet Seat
,
Adjustable Water Pressure Bidet Attachment
,
Adjustable Water Pressure Bidet Seat
,
Adjustable Water Pressure Bidet
,
Self-cleaning Nozzle Bidet
,
Elongated Bidet Seat
,
Bidet Faucet Attachment
,
Warm Water Bidet
,
Greenco Water Pressure Bidet
,
Greenco Bidet Toilet Seat
,
Press-button Control Bidet
,