Multifunctional Handheld Toilet Bidet Sprayer

Key Specifications / Features:
Handheld Toilet Bidet Sprayer Provider: Multifunctional Toilet Bidet Sprayer, Self-cleaning, Double-lock System, Leak-Proof Design, Chrome Finish.
Detail Infomation
Bidet Handheld Toilet Spray Wash
This handheld bidet sprayer for the toilet set is a practical tool to convert your existing toilet into a hygienic bidet for your healthy personal hygiene. It can be used not only for self-cleaning but also be suitable for baby cloth diaper sprayers, dog shower sprayers to rinse and clean toilets, clean potty seat bowls and so on.

What Is in the Box?
·High-quality ABS bidet sprayer head, 47 inches G1/2" stainless steel bidet hose, sprayer holder.
·A multifunctional handheld toilet bidet sprayer. You can use it flexibly, toilet cleaning, Diaper cleaning, Personal Hygiene, Shattaf Muslim shower or jet spray, baby shower, etc.
·120cm Stainless steel, double-lock system, and EPDM inner tube. This hose is flexible, blast-proof. LEAK-PROOF design protects from leaks.
·Chrome finish, with a 48-hour salt spray test, keeps a Shiny & glossy look. Simple design is suitable for any bathroom. Easy to install, you can finish it without plumbers.

Product Description:
| | |
| --- | --- |
| Product Model: | HB003 |
| Item Name: | Hand Bidet Sets |
| Finish: | Chrome |
| Material: | ABS Plastic |
| T-adapter size: | G7/8"female, G7/8"male, G1/2"male |
| Warranty time: | 1 year |
| Suitable place: | Bathroom/Toilet |
| Suitable use for: | PP Bath, Pet Wash, Cloth Wash, Wash Floor, Water Flower |
| Package: | White box or color for choose |
| MOQ: | 500pcs |
How to Install the Hand Bidet Set:
● Mark the suitable position beside the toilet on the wall, and drill two holes (Diameter 5mm) on the wall.
● Insert the plastic plug into the holes, and use the screw through into the wall bracket to fix it onto the plastic plug.
● Use the screwdriver to tighten the screws to ensure the wall bracket is fixed.
● Turn off the angle valve, then loosen the hose nut under the cistern.
● Connect the three-way diverter to the water inlet under the cistern. Then connect the braided hose and connect the new chromed hose to the side screw.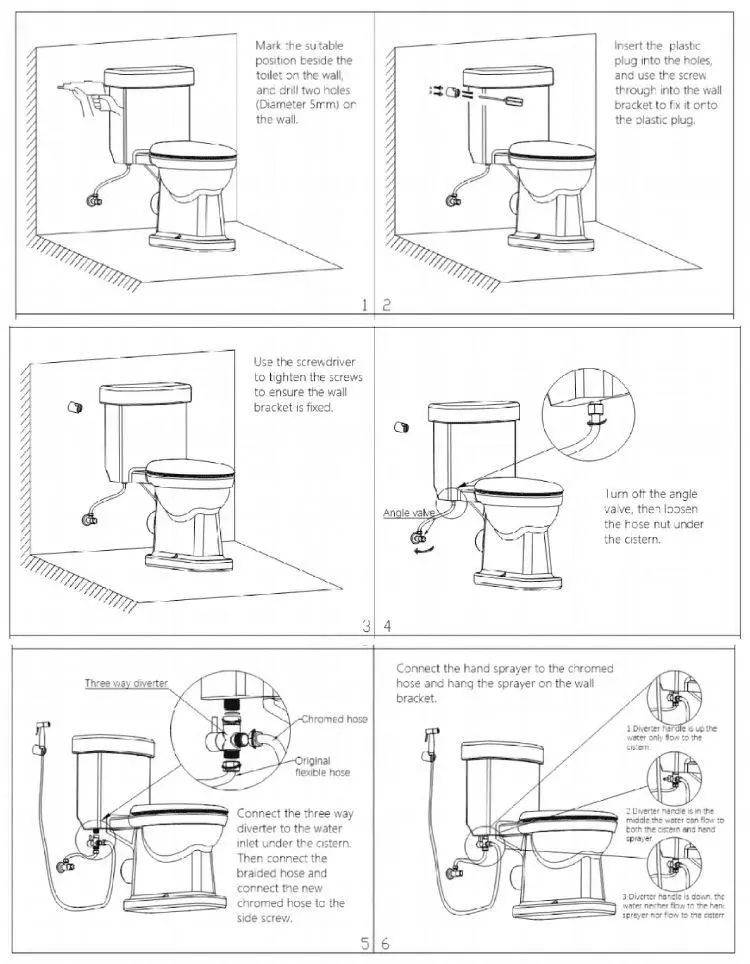 About Us:
Founded in 2015, Xiamen Nete is one of the best manufacturers of a wide range of high-quality bidet, hand bidet, and other related accessories. With many years of experience and excellent quality, advanced service and competitive price, NETE has won the trust and support of many customers. We sincerely hope we can build a long-term and friendly business relationship with you!

FAQ:
1. Are you a trading company or manufacturer?
We are a professional manufacturer of Bidet, Hand bidet set.

2. What should you pay attention to when installing the faucet?
Before connecting the water pipe, it is necessary to flush the mud, sand and impurities in the water inlet pipe first and then connect it to the faucet body.

3. After a long time of use of the faucet, do water amounts run low or forking?
Excessive impurities in the water affect the aerator's normal operation. Unscrew the aerator, soak it in vinegar and clean it before installed back to the faucet.

4. Can't shut the water?
Remove the cartridge, the foreign matter and reinstall; if the cartridge still leaks after reinstalling, replacement would be necessary.
Tags: