Stainless steel Braided Hose for Manual Bidet

Key Specifications / Features:
Stainless steel Braided Hose Provider: Braided Hose for Manual Bidet, 60 CM, High Physical Strength with Light Weight & A Long Usage Life, CE, ROHS, FCC.
Detail Infomation
This is a high-quality bidet water supply line that is made of stainless steel for durability and flexibility, the braided tube designed prevents kinking and breakage. With chrome plated brass nuts part of the hose, it prevents corrosion and rust suing lifetime use. Durable construction ensure years of reliable performance.
Feature Of Stainless Steel Flex Hoses:
EASY INSTALLATION: The Faucet Hose is quick and easy to install. Clear a simple directions allowing you to DIY and save to connect to toilet or sink on your own.
NO WATER LEAKAGE! Supply a seal washer which ensures no water leakage.
BURST PROOF: Water supply line is made of super high tensile braided stainless steel protects PVC Inner Tube, ensures maximum pressure and performance. Never worry your hose will burst and avoid floods.
UNIVERSAL FIT: Compatible with most standard size bidets. 7/8 X 9/16 inch.
Customizing size: 60CM or 70CM or 80 CM hose or customizing is available.
QUALITY GUARANTEED: Manufactured with superior quality rust free stainless steel, the braided construction for long lasting durability.
INSTALLATION PROCEDURE
You will need an adjustable wrench to install a new water connector.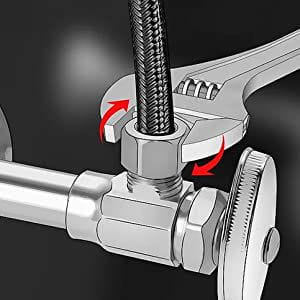 Tags: